About This File
What does it do?

This adds Devious Desires traits like Victim, Fertile, Dominant/MilkProducer etc by Good/Evil/Genitals/Occult.
Traits like Fertility/Victim/BreastMilkProducer are automatically added to all sims matching the conditions you pick as they spawn. So you could make only Memaids BreastMilk Producers or all Evil sims rapists.
It only applies to Teen to Elderly age sims.
This just adds the Traits, what happens then is up to the sims

DO NOT INSTALL THE SOURCE SCRIPTS, they are for people learning python or wanting to make changes.
DO NOT INSTALL EVERYTHING. Things will get crazy, think carefully of the flavours you want.
Installation: Just drop only the ones you want into your Sims 4 Mods folder. DO NOT INSTALL ALL OF THEM OR CRAZY STUFF WILL HAPPEN!
Requires S4CL from Nexus: The Sims 4 Community Library at The Sims 4 Nexus - Mods and community (nexusmods.com)
The DD addon requires Devious Desires: Devious Desires - Miscellaneous - NSFWmods.com

Big Thanks to ColonelNutty for S4CL and baby stepping me through my first Python Scripting
If you don't like any particular aspects let me know and I'll make one with other flavors to be more inclusive 


I WILL NOT DO ANY CHILD FEATURES.
If I have accidentally enabled something like that please let me know so I can fix it. 
This also works great with my other mods:
[Sims4] [S4CL] [DD] Add Good and/or Evil Traits - Accessories - NSFWmods.com
[Sims4] [S4CL] [DD] Want Level Tweaks - Miscellaneous - NSFWmods.com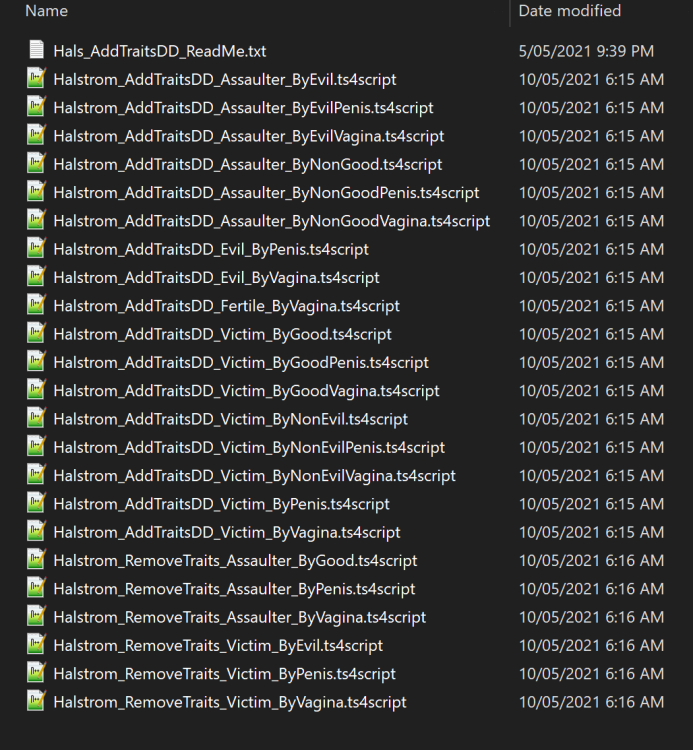 Edited by Halstrom
---